refinish or replace kitchen cabinets
Deciding between refinishing and replacing kitchen cabinets can be a big and costly decision.  So here is an article for you to help make the choice a tiny bit easier.
Kitchen cabinets have a lot of requirements to meet. They need to be sturdy and large enough to hold dishes, utensils, pots and pans, and other kitchen supplies. They need to be able to withstand sauce splatters, water spills, dings, and scratches from heavy kitchen traffic, and dirty hands from cooking messes. 
So when it's time to update your kitchen whether, for functional or aesthetic purposes, you have to decide: will you refinish or replace your kitchen cabinets?
Refinishing kitchen cabinets
You could refinish the cabinets already in your kitchen if the current design is functional. 
If you don't want to change the set-up of your cabinets, refinishing them can give an updated color. 
It can also stain a fresh new look without costing you a fortune or putting you and your family through a full-scale reno. Updating hardware can also help make old cabinetry look new again.
High-quality wood cabinets are also solid candidates for refinishing. 
Replacing your cabinets is a huge cost that is not completely necessary if the cabinets are less than ten years old and made from a high-quality wood like cherry, maple, ash, hickory, or oak. Refinishing these hardy cabinets, instead of replacing them, can both conserve wood and money.
Of course, if your cabinets aren't wood, refinishing may not be an option. 
Lacquer cabinets are more contemporary and look a little more high-end, but they're not candidates for refinishing or even repainting, often.
Pros of Refinishing Cabinets
Cabinet refacing costs are approximately half the price of replacing cabinets. This is one of the biggest benefits to opting to reface kitchen cabinets.
Also, it's more environmentally friendly since you won't be throwing away your existing cabinets.
One of the best things about cabinet refacing is that you can leave all your appliances plugged in and in place. That means that even while your kitchen is under renovation, it is still functional.
Refacing cabinets is faster than replacing cabinets. It often takes less than a week from start to finish.
Kitchen cabinet refinishing cons
When you reface kitchen cabinets, you aren't changing the layout of your kitchen. So, if space is poorly designed and not functional, a new look to the cabinets won't change that.
Also, because cabinet refacing is less expensive, some homeowners splurge on costly hardware or veneer. Then, the savings compared to cabinet replacing may not be there.
Also, there is some skill required to successfully reface kitchen cabinets. If you aren't handy, hiring a pro is a good call.
Replacing Kitchen cabinets
Kitchen cabinets with significant damage must be replaced or repaired. Full stop. Covering up warping, water damage, mold, or other issues that impact the quality of the material is only a temporary solution. Mold should be promptly removed completely. 
If your biggest complaint with your kitchen is that the cabinets all seem to be in the wrong spots (or there aren't enough of them), and not that they're out-of-date or your least favorite color. The only solution is to replace them with a more thoughtful layout.
Pros of cabinet replacement
When you completely replace your tired kitchen cabinets, you can move things around. Basically, you're starting with a blank canvas and can even move the placement of the sink or stove. Of course, that means that the cost of your project goes up, but the possibilities are endless.
Brand new cabinets allow you to choose whatever you want. From pull-out shelves, and custom-sized cabinets to deep drawers and built-in dividers, you can have it exactly as you want.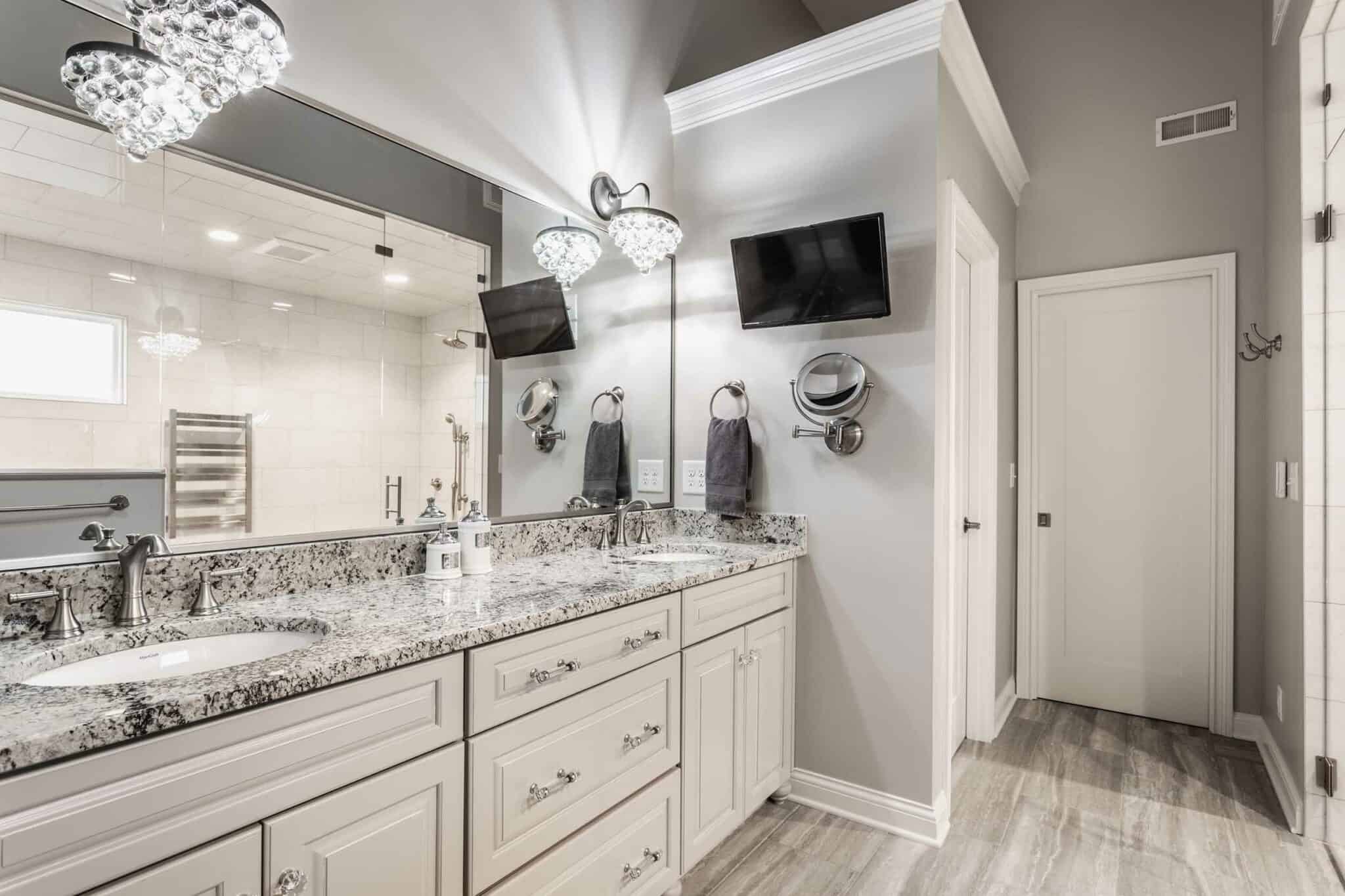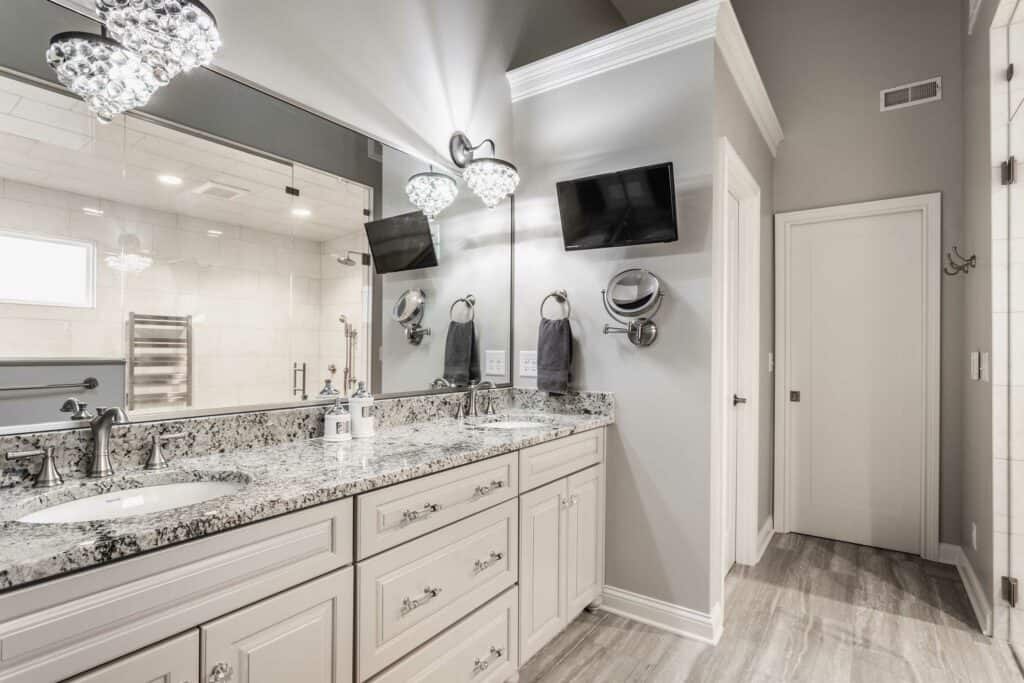 COns of cabinet replacement
The main con of cabinet replacement is the cost. You'll pay twice as much or more to replace your cabinets compared to cabinet refacing.
Also, this project will take longer. Your contractor will have to pull out the old cabinets. You'll first have to take everything out of your cabinets and find where to store them.
You'll also likely have to move your appliances and find another place to eat while your kitchen is under construction.
Other things to keep in mind
If you still aren't sure whether to replace or reface kitchen cabinets, here are a few other factors to consider.
CAbinet interiors
With new cabinets, new interiors are included. But if you choose to reface kitchen cabinets, you should think about updating the insides too.
You can sand, paint or veneer your interiors for a different style. And you can add pull out drawers or lazy susans into your cabinetry while the doors are off.
Consider open shelfing
If you have older cabinets that are still in decent shape, you might want to think about open shelving.
You can remove the doors and keep them off and reconfigure the shelves for a new look.
You can even add beadboard backs or paint the interiors a different color. Both are fun ways to add a bit of fresh air to your kitchen.
Replace
and
Refinish
Certain cabinets naturally get a lot more use. These ones wear out much sooner than the rest.
You could replace these and refinish the cabinets that are holding up well. This is a practical way to save money and send fewer materials to the landfill.
DOn't forget hardware!
Regardless of whether you choose to replace or refinish your cabinets, don't neglect the finishing touch.
The hardware you choose for your drawer pulls and cabinet knobs can make a huge difference in the look of your kitchen.
From modern to farmhouse fresh, there are hardware options for every decor style.
Who doesn't want new cabinets? If your budget allows for it, new cabinets give your kitchen long-lasting value for your enjoyment and for resale. If money is an issue, then cabinet refacing is the closest alternative to replacement. 
THE FOLLOWING ARE OUR KITCHEN REMODELING SERVICE AREAS
McCordsville, Indiana
Fishers, Indiana
Carmel, Indiana
Lawrence, Indiana
Greenfield, Indiana
Zionsville, Indiana
Noblesville, Indiana
Whitestown, Indiana
Westfield, Indiana
Rocky Ripple, Indy, Indiana Meridian Kessler, Indy, Indiana
Castleton, Indy, Indiana
Meridian Hills, Indy, Indiana
Fortville, Indiana
Pendleton, Indiana
LEARN MORE