Remodeling demolition is a crucial step in any renovation project. It is the process of removing old structures and materials that are no longer needed or functional in a building to create a clean slate for the new design. Demolition can be a challenging and hazardous process, but it is essential for ensuring a successful renovation project. We will discuss the steps you should take to prepare for a kitchen remodeling demolition.
Remodeling Demolition​
Preparing your kitchen for remodeling demolition is a crucial part of the process that requires careful planning and preparation. During remodeling demolition, various elements of a building may be removed, including walls, floors, ceilings, fixtures, and utilities such as plumbing or electrical systems. The extent of the demolition depends on the scope of the remodeling project, as well as the condition and age of the existing structure. Preparing your kitchen for a remodeling demolition is an important step to ensure that the process runs smoothly and safely.
Remove all items from your kitchen: Before the demolition process starts, you should remove all items from your kitchen, including dishes, appliances, and other items that are not nailed down.
Disconnect all appliances: You should also disconnect all appliances, such as your refrigerator, stove, and dishwasher, and remove them from the kitchen area.
Cover or remove furniture: If you have any furniture in your kitchen, such as a table or chairs, you should cover them with plastic or remove them from the room to protect them from dust and debris.
Protect your flooring: Your flooring can easily be damaged during the process, so you should cover it with a protective covering, such as a drop cloth or rosin paper…unless you are planning to include it in the demo!
Seal off the kitchen area: To prevent dust and debris from spreading to other parts of your home, you should seal off the kitchen area with plastic sheeting.
Turn off all utilities: You should turn off all utilities, including gas, electricity, and water, before the demolition process starts.
Hire a professional contractor: It's important to hire a professional contractor for your kitchen remodeling project. They will have the necessary tools and experience to safely and efficiently complete the demolition process.
Benefits to Demolishing Your Kitchen​
It's important to note that the decision to demolish your kitchen should not be taken lightly and should only be made after careful consideration of your budget, timeline, and overall goals for the renovation. But it can improve several things:
Improved functionality: Demolishing old, outdated, or non-functional features can make a space more functional. By removing walls, rearranging spaces, or replacing old fixtures, you can create a more usable and practical space.
Enhanced aesthetics: Demolishing old, unattractive materials can create a clean slate for your renovation. This can allow for a fresh, modern look that can significantly enhance your home's appeal.
Increased property value: A successful renovation can significantly increase the value of your property. By replacing old or outdated features with modern, functional elements, your home can become more desirable to potential buyers.
Improved safety: Demolition can be an opportunity to identify and remove hazardous materials or structures. Removing lead-based paint, asbestos, or other dangerous elements can improve the safety and air quality of your home.
A popular element of remodeling your kitchen has been the ability to make kitchen additions. If you'd like to learn more about what these entail, click HERE!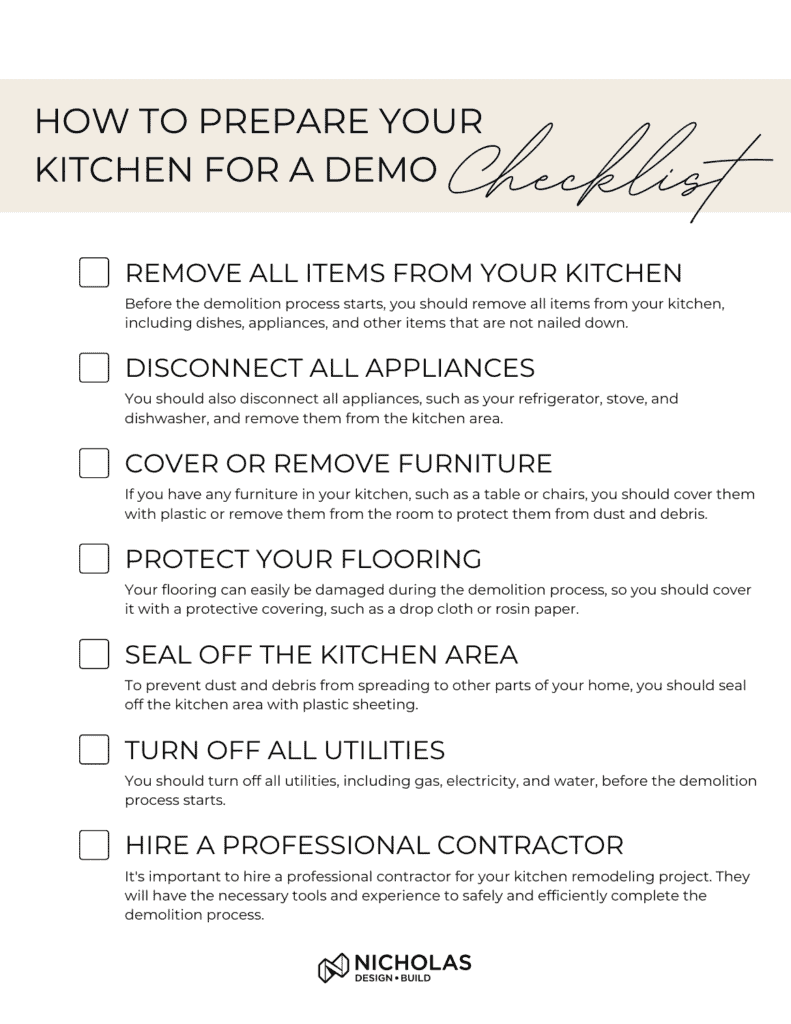 Need to Hire Professionals?​
In summary, remodeling demolition is a crucial process in any renovation project, and it can provide several benefits, including improved functionality, enhanced aesthetics, increased property value, and improved safety. By following these steps, you can help ensure that your kitchen remodeling demolition is completed safely and without any unnecessary damage to your home or belongings. Keep Nicholas Design Build in mind if you're planning a kitchen remodel. Our entire design-build process takes place under one roof, providing a simple and exciting experience of working with one expert team from start to finish. You'll also be able to communicate directly with your team using our web-based project management tool that tracks a remodels' status, design, schedule, and budget.
Like to have physical checklists? Print out these steps to prepare your kitchen and check the boxes as you go!