Buildertrend is a cloud-based construction management software designed to streamline and centralize project management processes for construction companies. It provides a range of features and tools that help design-build firms efficiently manage their projects from start to finish.
Buildertrend's all-in-one platform has the tools you need to set a budget, communicate with clients, schedule work, and keep tabs on job site progress. Over 27,000 construction companies use Buildertrend, which saves them money and time.
Buildertrend: A Trusted Tool
With Buildertrend's home builder software, you can set your project timeline, keep your budget up to date and share information with subs and clients all in one place. Build better and faster with tools available at your fingertips in the office or on the job site.
Here are some key benefits of using Buildertrend for a design-build firm:
Project Management: Buildertrend offers robust project management capabilities, allowing firms to effectively plan, schedule, and track all aspects of their projects. It provides a centralized platform where project managers, architects, contractors, and clients can collaborate, share documents, and communicate in real-time. This ensures everyone is on the same page, minimizing miscommunication and delays.
Document Management: Design-build firms deal with a large volume of project documents, such as blueprints, specifications, and contracts. Buildertrend provides a secure repository to store and manage all project-related documents. It allows for version control, so everyone can access the latest versions of files, reducing the risk of errors due to outdated information.
Communication and Collaboration: Effective communication is crucial in design-build projects. Buildertrend provides tools for internal and external communication, such as messaging, document sharing, and notifications. Team members can easily communicate updates, share progress photos, and request approvals, fostering collaboration and transparency.
Change Order Management: Changes are common in construction projects and managing them effectively is crucial to avoid cost overruns and project delays. Buildertrend simplifies change order management by providing a structured workflow. Design-build firms can track change requests, document the impact on the schedule and budget, and obtain client approvals within the system, ensuring smooth change management.
Financial Management: Buildertrend offers features to manage project finances, including budgeting, estimating, and invoicing. Design-build firms can create detailed budgets, track actual costs against estimates, generate accurate invoices, and manage payments within the platform. This helps maintain financial control, improve profitability, and streamline accounting processes.
Client Collaboration: Buildertrend allows design-build firms to provide their clients with a personalized online portal. Clients can access project information, view progress photos, and review schedules and documents. This transparency and engagement enhance client satisfaction, as they have real-time visibility into the project's status and can provide feedback easily.
Reporting and Analytics: Buildertrend provides reporting and analytics capabilities that help design-build firms gain insights into their projects' performance. Firms can generate customized reports on project progress, financials, and other key metrics. These insights enable data-driven decision-making, identify areas for improvement, and support better project planning in the future.
Check out below at all the features that will give you back valuable time in your day.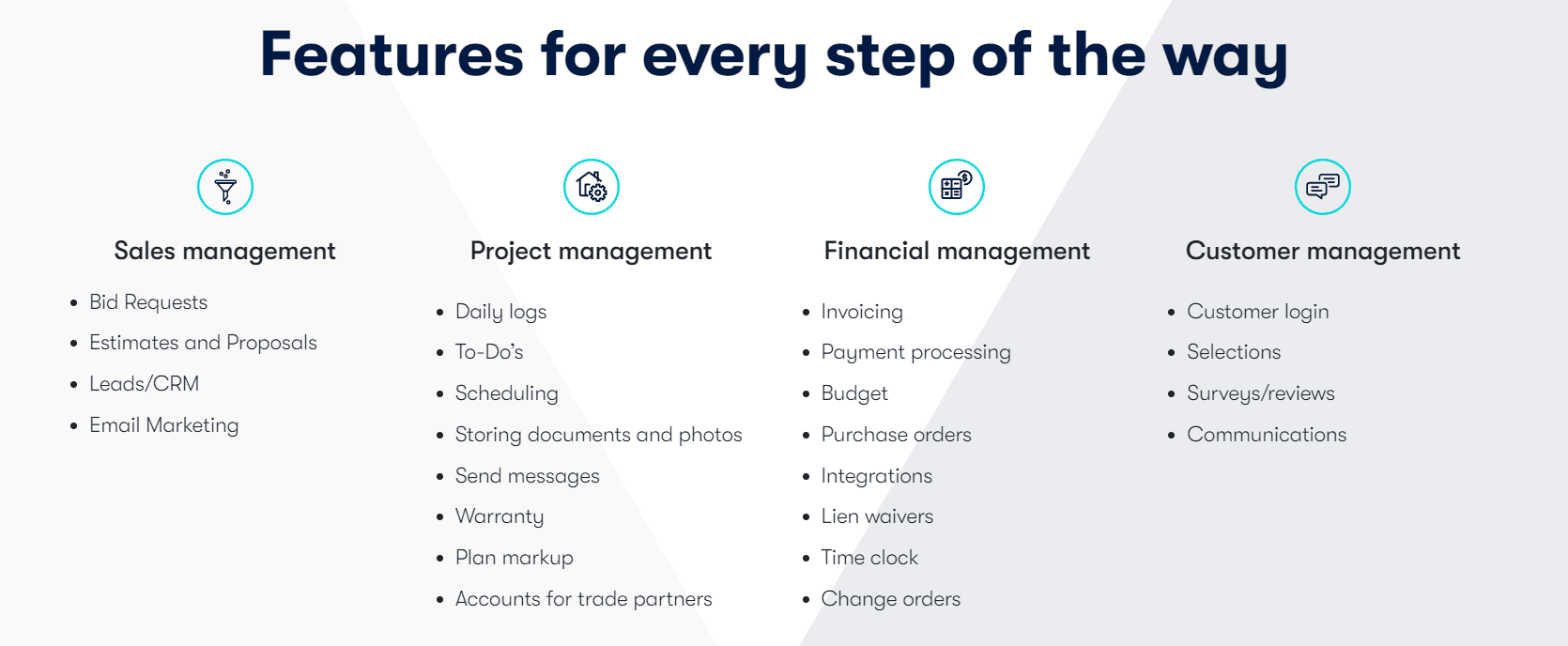 Buildertrend comes with a host of benefits for homeowners, including a simplified way to choose selections, online payments and progress updates – just to name a few. Everyone likes clear communication and Buildertrend has next-level transparency.
How Does This Relate To NDB?
We use Buildertrend! Nicholas Design Build strives to provide the highest quality experience to its clients. Not only do we use Buildertrend to simplify things and keep work on track, but our entire design-build process takes place under one roof, providing a simple and exciting experience of working with one expert team from start to finish. No unknown moving parts – our commitment is to be on time, on budget, and done right.
If you're interested in starting a home remodeling project, contact us today!